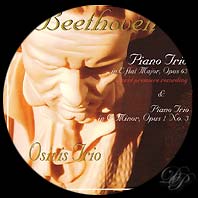 Trio Osiris: Peter Brunt, violin; Larissa Groeneveld, cello;
Ellen Corver, piano.
Piano trio opus 63 (and piano trio opus 1 no. 3).
World premiere, recorded in 2003.
Opus 63 was "the unobtainable work" of Beethoven. Never recorded until this day, it is a warm performance, accomplished by the Trio Osiris, which we now offer you.
If the authenticity of the Piano Trio, adaptation of the string quartet opus 4, is opened for discussion, it is a forgotten fact explained in the discography, that no existing source indicates that Beethoven ever disowned the work. Form your own opinion, and complete your disc collection with the unpublished work!