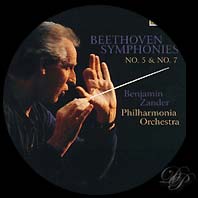 The fifth and the seventh symphonies
Benjamin Zander gives us this enthusiastic and energetic performance of Beethoven's works, played as the composer wrote them - that is to say, respecting Beethoven's tempo.
One can be forgiven for thinking that this has already been done, and done well. This is not so. Publishers, habits, simplicity have all combined to elongate these musical creations. In fact, we are, today, a long way from the interpretation that Beethoven originally intended.
This is a great experience that Zander presents: to discover Beethoven in a way in which we have never done so before.
After the initial surprise, it's with pleasure that we embark on the listening and understanding of Beethoven's music, as he intended it, from which we are so far.