In 1822 Beethoven began to take notes for his 10th symphony. But in 1827, at the death of the composer, only the 1st movement had been started.

We know about 50 sketched out versions for the symphony, all fragmented.

Barry Cooper, specialist of Beethoven, studied these documents and estimated that the first movement of the symphany could be achieved. Of the 531 bars of the movement, 300 are taked directly from Beethoven's manuscripts.

As a result we can hear it...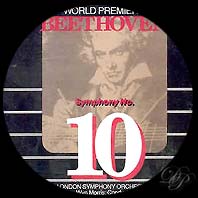 Symphony 10
London Symphony Orchestra
Wyn Morris
Initiative Music Production
1988