In the time in which Beethoven lived, the symphonies were readily transcribed, which allowed the work to be performed by smaller groups, even sometimes a single instrument, mostly the piano.
Thus, Michael Gotthardt Fischer (1773-1829) realized an adaptation of the 6th symphony of Ludwig van Beethoven for string sextet.
The Köllner Streichsextett, a renowned formation and recognised in Germany, enable us to discover this work with subtlety. It is remarkable to note at which point every instrument, violin, viola and cello, takes its correct part, or that of the winds, and the tuttis are very rare.
What is remarkable, with this type of transcription, is the refinement of the work and the quotation of those voices which we hear little or sometimes not at all in the orchestra, especially because the violins are too numerous.
Accompanying the sixth of Beethoven we find a work by Augusto Valente "Six to midnight", decidedly more modern.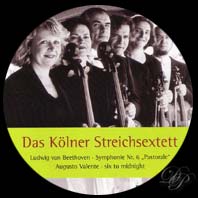 Das Kölner Strichsextett
Aulos - Musikado - 2003