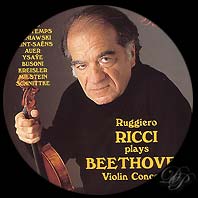 Biddulph Recordings - 1994
Orchestra del Chianti
Piero Bellugi.
A cadenza is a free solo section by the composer: the soloist may write their own or improvises. This is a very difficult exercise, and an invitation which the composer offers.
Beethoven did not write a cadenza for his violin concerto. But there exists an equivalent in the transcription for piano. This cadenza, when readapted for the violin, is the "Beethoven" cadenza.
But the CD proposes thirteen others: Ferdinand David, Henri Vieuxtemps, Joseph Joachim (2), Ferdinand Laub, Henryk Wieniawski, Camille Saint-Saëns, Leopold Auer, Eugène Ysaÿe, Ferruccio Busoni, Fritz Kreisler, Nathan Milstein and Alfred Schnittke.
The organisation of the tracks on the CD allow you to choose your cadenza, and then programme it: here are fourteen concertos and one only!