We are, with this CD, in the presence of an orchestra few in number, of a piano from the beginning of the 1800s, and performers who guide us to a listening full of nuance and skillful contrasts.
The Fourth concerto for piano and orchestra is performed in a magisterial manner, the orchestra and piano harmonize wonderfully. The colours are brilliant and the texture of the work is executed in a majestic manner.
One would think of the Fifth concerto as more modern, and less well suited to a small formation. This is not the case. The Adagio is played with a piercing inspiration and purity. Then the Rondo, where the resonant sound is often overdone, the piano avoids all the traps related to the weakness of its sound.
If the first hearing is surprising, so far as we are used to thunderous repeats, a second hearing allows us to experience, the life of the concerto fully.
I warmly recommend this CD to people who are ordinarily a little sensitive to performances on period instruments, listen to this disc: it is a little jewel!
We hope the other concertos follow.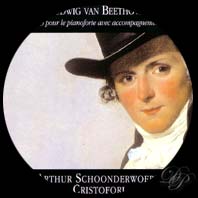 Piano: Artur Schoonderwoerd
Orchestra: Cristofori
Alpha - 2004