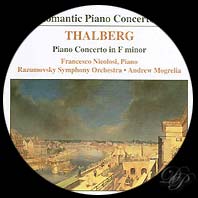 Conductor: Andrew Mogrelia
Razumovsky Symphony Orchestra
Naxos - 2000
Sigismond Thalberg (1812-1871) composed "Memories of Beethoven: Great Fantasy for Piano on Beethoven's Seventh Symphony" in 1830, which was only published in 1840. This work is numbered opus 39.

This composer, unknown today, was at the time a great rival of Liszt. He was an incredible piano virtuoso. At a concert in Paris where the two pianists partcipated, it was said that Thalberg was the world's greatest pianiast whilst Liszt was unique.

If this was indeed the case, we should note that Liszt's compositions have stayed with us, whilst those of Thalberg have been forgotten.

Whatever, this Fantaisie on the seventh (and fifth!) is completely astonishing and, for me, very pleasant...