Henry Baerer was born in 1837 in Kirchlin, Germany. He went to the USA in 1854.
He studied sculpture with von Launitz, then returned to Germany.
He created two enourmous statues for the town of Munich. He moved difinitively to New York City in 1866.
He died in 1908.
Title of work: Beethoven
Material: Bronze
Width of monument: 1.20 m (60")
Depth of monument: 1.52 m (60")
Height of monument : 4.57 m (15')
Height of sculpture: 1.22 m (4') for the bust and 1.83 m (6') for the base.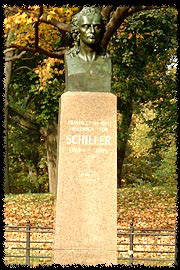 Schiller
Central Park, at New York City
Photo used with the authorisation of Sara Cedar Miller/Central Park Conservancy