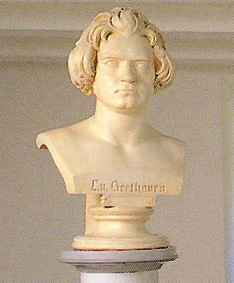 The bust created by Anton Dietrich in 1867...
Anton Dietrich (1799-1872) created two busts of Beethoven.

The first was made in 1821. This bust is kept at the History Museum of Vienna.

The second was comissioned by the Opera of Vienna (the "Wiener Staatsoper") and was sculpted in 1867. The plastic model can be found in the great hall at the Musikvereinin Vienna.

He also sculpted, for the Opera of Vienna, a bust of Schubert.

This bust of Beethoven, or perhaps a copy, can be found a the Beethovenhaus in Bonn...