The actor Heinrich Anschütz, read the funeral oration written by Franz Grillparzer (a great writer), in front of the doors of the Währing Cemetary.
Beethovens body was exhumed twice; in 1863 - in order to preserve the remains better in a metal coffin, and where photos were taken of his skull and on the 22nd of June 1888, when his remains were transferred to Zentralfriedhof (experts were given 30 minutes to examine the remains).
Today Währing cemetery has been transformed into Schubert Park.The original tombs of Beethoven and Schubert are still there - those which were erected at their deaths.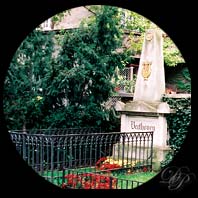 Beethoven's original tomb