This remarkable CD collects 5 Italian airs and ensembles and 4 German airs. Conducted with mastery by Didier Talpain, the period instruments of the Concerto Polacca and the voices of the Ensemble Philidor transport us into the domain of the frequently underrated vocal works of Beethoven. (Re) discover without delay.

Italian airs and ensembles:
- Ah! Perfido, opus 65;
- Primo amore, WoO92;
- No, non, turbati, WoO 92a;
- Ne' giorni tuoi felici, WoO 93;
- Tremate, empi, tremate, opus 116.

German airs:
- Prüfung des Küssens, WoO 89;
- Soll ein Schuh nicht drücken, WoO 91/2;
- O Welch ein Leben, WoO 91/1;
- Mit Mädeln sich vertragen, WoO 90.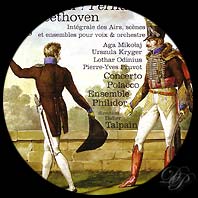 Concerto Polacco
Ensemble Philidor
directed by Didier Talpain
BNL - 2003