My love for Beethoven started when I was 14 years old. I listened to a piano piece which I discovered was the Pathetique Sonata. I somehow could identify with the music as I was listening to it, I sensed Beethoven's sufferings. Listening to him gave me inspiration to learn the piano although I wanted to learn from the age of 6 but never got the opportunity; however, when I was 15 I started lessons. I made rapid progress from the third lesson onwards. I told my teacher that Ludwig van Beethoven was my favourite composer so I was given the famous 'Moonlight Sonata' to learn; fortunately I got on well with the piece and was soon able to play it from memory. Obviously I had to learn pieces by other composers such as Bach and Handel et al. but I always returned to Beethoven.
I also enjoy listening to Beethoven's symphonies, especially the Symphony No. 7 in A Major, the slow movement. I also enjoy listening to his piano trios and string quartets but most of all, I enjoy his piano sonatas, including 'The Tempest' in D minor and many others.
My enthusiasm and love for Beethoven grew stronger as the years went by and I always wanted to visit his birthplace in Bonn. I achieved my ambition in September 1997 when I attended a Beethoven Festival there, a wonderful experience which will never be forgotten. Whilst in Bonn, I visited the Beethovenhaus in the Bonngasse at least three times and the Staff got to know that I was a great "Beethoven fan". Another favourite place of mine in Bonn is the Muensterplatz where the very imposing Beethoven Denkmal is. I had lots of photos taken in front of it besides many more pictures I took in Bonn, including the world-famous Beethovenhaus where this extraordinary spirit came into the World in December 1770.
I attended at least six concerts, many of them performed in the Beethovenhalle next to the Beethovenhaus. One of these concerts included a piano and cello sonata in F major and I have this piece on audiotape so when I heard it at the concert I was so touched that I cried (silently!). It was a wonderful co-incidence.
After Bonn, my next ambition was to visit Vienna so I went there for my birthday in June 2000. It was my dream to have dinner in one of the many places where Beethoven lived so I chose the little house at Pfarrplatz in Heiligenstadt. I celebrated my birthday with a delicious supper with half a bottle of red wine, and the Staff made a delicious chocolate cake for me. There was music played by an accordionist which I also enjoyed. I really enjoyed that evening.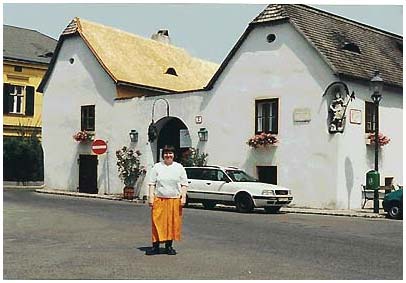 Maria at the Beethovenhaus in Pfarrplatz
Still in Vienna, I went to visit the Pasqualatihaus and I asked the museum staff if I could take photos. They said that would be OK provided I don't use flash so I went ahead. I had a picture taken of me with the bronze Bust of Beethoven (Klein) and then I decided to take one of the Bust on its own. I took just one photo of the Bust of Beethoven, and had to "guess" the exposure and shutter speed settings because my camera was not working properly! Little did I know what was in store for me when I got back to London to have the film processed. When I saw the results (which were very satisfactory), this particular photo of the Bust of Beethoven shone gold on the right side and blue on the left side. The more I looked at the photo the more the colours shone! It is true that there were some white and blue reflections on the floor from the lights above but these reflections would have to come up a long way to shine on the Bust of Beethoven. This photograph is VERY precious to me! I have had many interesting experiences concerning my favourite composer, and one very unusual phenomenon which happened three years ago. I would like to write about this but it would be too much to include in this story.
I am now reading many of Beethoven's books and listen to his wonderful music which I find very therapeutic. Someone said that I was a "kindred spirit" with Beethoven".