I reproduce below the promotional commentary of the DVD, which I have lightly retouched, but which I find very accurate:
At 32 years of age, in his famous Heiligenstadt Testament, Beethoven confessed that his deafness was beginning to become troublesome: thus begins this DVD dedicated to Beethoven, a portrait of this solitary genius who was nevertheless loved by all of Vienna and, above all, the many aristocrats who more or less offered him a life pension for some time...

Through the surroundings of his existence, underlined by divers visual documents - paintings, sketches, and manuscripts - we skillfully follow the traces of the errant composer through the wanderings of his brain.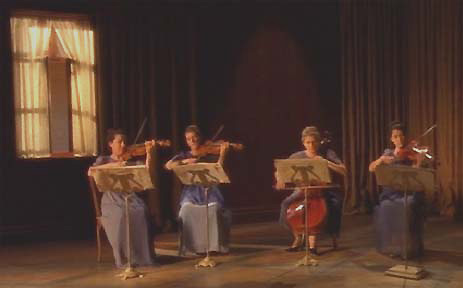 The actor Pascal Contamine playing the character presents a true resemblance with certain portraits we all know; like, increase, the director does not comment on the gross error of the to make to talk, the illusion is disconcerting.

All that about his 10 th string quartet for 2 violins, 1 viola and 1 cello - "Harp", opus 74, under the fingers of the Claudel String Quartet – four pretty ladies all in blue – because the talk is accompanied by a complete performance of the quartet, every movement illustrating such and such an atmosphere or humor of the composer, as if were being conceived before our very eyes and ears.
Here is an excellent didactic DVD, of exceptional quality, at a reduced price and accompanied by two audio CDs. More than business: a veritable pleasure!