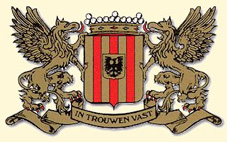 Michel was born on February 15th 1684, and his godmother was Elisabeth van Leempoel. He lived in the house in rue des Pierres.
In 1700, he was apprentice baker, and became Head Baker on October 5th 1707.
He maried Maria Ludovica STUYCKERS on October 8th 1707. They moved into a house called The Speckled Bullok. They left in 1711 to live in the Rue des pierres after the death of his father.
Michel was therefore a baker, but equally participated in the buying and selling of paintings. Perhaps he could have been a bric-a-brac trader? Around 1720, he worked in the Malines lace trade, particularly reputable for his luxurious items. It would seem that his trade thrived because, in 1727, the Beethoven couple possessed four houses in the rue des Juifs, plus other residences which each had inherited from their parents.

Despite all, the family took out several loans, the assets of their houses being hypothetical. Michel was often away, perhaps for his work ? This was also a difficult period for trade in general. In any case, around 1740 and overall in 1741, the sums demanded of him were exorbitant.
He therefore left Malines probably in March 1741, for Bonn where two of his sons lived. His creditors couldn't follow him that far... He owed them about 10.000 florins. To put this in perspective, at this time the rent per year for a respectable house was around 50 florins !