Ludwig van Beethoven was born on December 16, 1770 in Bonn, Germany. He was the second child to Maria Magdalena and Johann van Beethoven. An older brother, Ludwig Maria, died six days after his birth on April 2, 1769. Beethoven had five younger siblings: Caspar Anton Carl, Nikolaus Johann, Anna-Maria Franziska, Franz Georg, and Maria Margaretha Josepha. However, Anna-Maria and Franz Georg died only a few days after their birth. There has been much research about the history of Beethoven's family, and while none of his siblings had similar musical genius, there were traces of it in his extended family.
This is the van Beethoven family tree, put together in 1947 by Joseph Schmidt-Gorg, one of the most prominent researches concerning the ancestors of Beethoven. This reproduction of the family tree is at the Beethovenhaus in Bonn, Germany.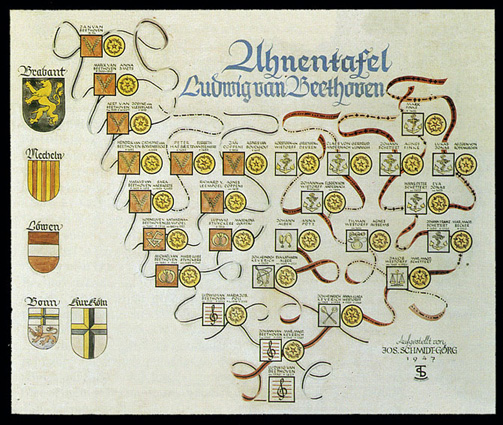 The Beethoven Family Tree (a)
Originally, the van Beethoven family came from Flanders. Ancestors of Beethoven held many different professions, including a baker (the composer's great-grandfather), a farmer (his great-great-great-great grandfather, whose wife was burnt as a witch in the market place at Brussels in 1595), and most importantly, his grandfather Louis, who lived much of his life as a musician (voice).
It is obvious that Beethoven received his musical talent from his grandfather. In 1725, Louis' father Michiel made an agreement with the local organist, Antoon Colfs. In exchange for 100 guilders (about $50 today), Colfs was to teach the young Louis "to read organ music, organ-tablature, and thorough bass or to play accompaniments on the harpsichord or organ." At the age of 19, Louis became choir director at the St. Pieterskerk at Louvain (though he had been singing in the choir since the tender age of 6), and a year later was also found as a singer at the St. Lambertuskerk at Liege. However, he did not remain there for very long, and he left for Bonn in March of 1733, largely to flee from creditors.(1) Unfortunately, Louis van Beethoven passed away when Ludwig was only three, yet his memory remained with Beethoven--for a portrait of Louis was hung on the wall in the room that Beethoven took his last breath in. Beethoven's father, Johann, was the third son of Louis.
Johann van Beethoven was also musically talented. He was a tenor in the Electoral choir and was promoted to "Hofmusikus" in 1764, though he was poorly paid. However, as a teacher, he was very much in demand, and wealthy foreigners would send their children to him for piano lessons. This talent became both a blessing and a curse--once Beethoven's father discovered his talent, young Ludwig's life became very difficult. When Beethoven was only four or five years old, Johann would force him to practice the piano and violin for hours on end, planning on exploiting him as a child prodigy to become wealthy. Johann was a relentless and (3) cruel teacher, often said to have beaten his son repeatedly for not being dedicated enough.
Ludwig performed his first recital at the age of eight, however, he did not establish himself as a child prodigy as Mozart had, much to the dismay of his father.(2) After three more years, Beethoven was able to take lessons outside of the family and began to study with the court organist, Christian Gottlob Neefe. Neefe became Beethoven's mentor and musical father, for he noticed that his young student was much more than talented-- he was a genius. Early on, Neefe began to encourage Beethoven to compose, and assisted him in getting his first work published: "Dressler" Variations for Piano, WoO 63. He employed Beethoven as an assistant organist and violist in the court orchestra. This job did not necessarily mean much money, but it opened Beethoven up to a new world of standard musical repertoire.(3) Neefe allowed Beethoven to truly tap into his musical abilities and did not force him as his father had. Following his time spent with Neefe, Beethoven moved to the city of Vienna, Austria--the then-musical capital of the world, where most of his compositions were created.
In Vienna, Beethoven dreamed of studying with Mozart, however, Mozart had died just the year before, in 1791 (though many of Beethoven's works were influenced strongly by Mozart). Beethoven began lessons with Haydn, but they did not go well, due to personality clashes. Fortunately, the unproductive lessons with Haydn stopped in February of 1794 when Haydn left for an extended trip to England. Other subsequent teachers included Johann Schenk, Johann Georg Albrechtsberger and Antonio Salieri.(4) His fame began to grow in Vienna and he began to construct some significant acquaintances with the Viennese nobility.
What little Beethoven did have began to slip away from him in the latter years of his life. In 1801, his hearing began to diminish noticeably, and his depression worsened. He was determined to survive this hard period in his life ("I will take fate by the throat; it shall not overcome me"), and in the summer of 1802, his notebooks were overflowing with creative thoughts; producing piano sonatas, three violin sonatas, and his Second Symphony.(8) This happy mood did not remain, and with the winter season approaching came a more bleak Beethoven. In October of 1802, Beethoven became increasingly unhappy, and wrote a letter to his brothers about contemplating suicide. He confessed in this document, known as the Heiligenstadt Testament, that ".a little more of my deafness and I would have ended my life-- it was only my art that held me back. Ah, it seemed impossible to leave the world until I had brought forth all that I felt was within me."(9) He expressed extreme dissatisfaction with his previous compositions, and during this depressed stage in his life he composed his heroic Third Symphony. (5)
Life continued to spiral downward for Beethoven. He took an interest in the sister of a friend, her name being Antoine Brentano. Around the year 1812, Beethoven wrote three letters to an "Immortal Beloved," and there has been some speculation as to if it was Brentano. These letters have been one of the greatest mysteries surrounding Beethoven's life. At this point in his life, Beethoven had been receiving a regular income for some time, and he longed for permanent companionship with someone. "He craved the permanent affection of a sympathetic woman, her tact, her ministering touch, her companionship, which, in his bachelorhood, he could only have in snatches."(10) His deafness also continued to worsen.
In 1818, Beethoven's deafness finally overcame him completely. For the last nine years of his life, he remained ill with many different ailments, including inflammation of the lungs, dropsy and pneumonia. Amazingly, it was during this rough time in his life that his Ninth Symphony was composed.(11) This just proves that Beethoven truly did hear his music with his "inner ear" and was truly the genius that Neefe first nurtured.
Beethoven died at age 56 on March 26, 1827. Even his death was legendary, the story being told of him lying in bed during a terrible thunderstorm, shaking his fist as a lightning bolt hit the earth, and then his death immediately following those successive chain of events. "An estimated 50,000 people attended his funeral and Wahringer's leading musicians acted as pallbearers."(12) He lived from the Classical to the Romantic ages, from hearing to deafness, from poverty to success. From the glory of being a famed composer to the absolute agony of being a worthless human being, Beethoven explored the entire spectrum that there was to offer in music. and in life.(6)